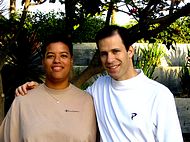 Research has shown that a golf specific program designed specifically for each golfer will improve posture, mobility, stability, balance, core strength, muscular endurance and cardiovascular endurance. All of these factors along with conventional golf instruction will increase effective ball striking and scoring. In laymen terms this means more distance, more consistency, lower scores, and less pain and injury. Going to the gym and getting fit does not correlate to being fit for golf. The days of going to yoga classes for golf or going to the gym to gain muscle to hit the ball farther are over. Each golfer needs to have a fitness program tailored to their unique body and golf swing in order to see improvements in their golf swing and in every day life. The great news is that the majority of exercises can be done away from the gym and most students will only need a swiss ball to start the program.
Golfweek Magazine made golf fitness a cover story in the March 4, 2006 issue and devoted over ten pages to the future of golf instruction. Until now, golf instructors would show you a position that they would like you to get into in order to hit the ball better. Golf instructors will now take your physical fitness into consideration because you may not be able to get into that position right now and trying to get there may cause injury. Your body will protect you first and hit the ball second. Your golf instructor should first see if you can physically get into a position before telling you to do it during your golf swing.
Here's what you should know: Golf instruction is an evolving science. It is ever changing like golf equipment. If you purchase golf equipment you should be custom fit for them. If your club fitter conducts the fitting with a ruler, turn and don't walk away- run. Advances in fitting have shown that the fitting should be done dynamically on a lie board. If you are taking golf lessons from an instructor that does not offer a physical screen as part of their instruction program, turn and don't walk away- run. Their lack of knowledge may cause you to progress at a slower rate or worse yet, they could be causing the pain or injury you experience when playing golf.
"Fifteen years ago the average American male golfer's handicap was 16.2. The average female golfer's handicap was 29. Today the average male's handicap is 16.2 and the average female's handicap is 29. American golfer's have not gotten any better." - Dr. Bob Rotella, The Golf of Your Dreams
Americans lead a sedentary lifestyle which affects our body and how it functions on the golf course and in daily life as well. Ten years ago golfers were told not to work out in the gym because their muscles would get tight and adversely effect thier golf swing. They were told to stretch incessantly to stay loose and help the muscles perform their best. Then came Tiger Woods and his commitment to a golf specific fitness program.
Maria Mills is a certified Master Golf Fitness Instructor. There are currently less than one hundred Master Golf Fitness Instructors worldwide. She was trained by Dr. Greg Rose of the Tiltleist Performance Institute and the Golf Channel's Golf Fitness Academy. The elite players on the LPGA and PGA Tours have had access to golf specific training for years and now you can see the benefit of training for golf.
Click here for information on golf fitness evaluations.
This webpage is sponsored by:
920 Century Drive
Mechanicsburg, PA 17055
717-591-1331
&
110 N 7th Street
Lemoyne, PA
717-731-6094